Summer Reading for Preschoolers – Getting a Jump Start on Kindergarten
Kindergarten teachers can easily spot children who have been read to. They are the ones who can hold a book properly, turn the pages working front to back, and who are aware of the directional flow of words. Summer reading offers a perfect opportunity for parents to facilitate many pre-literacy skills needed for school. By following a few simple steps, parents can make summer reading a stepping stone for literacy success in kindergarten and beyond.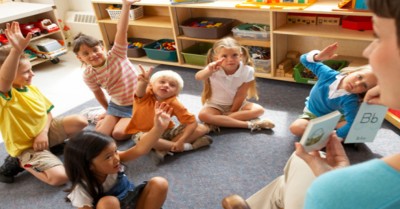 The first step is book selection. Children love to go to the library, and this makes for a cool summer outing, literally 九龍城 n班. Escort your child to the "early readers" and let him choose some books of interest. You certainly want your child to be excited about what he's reading! If you have any trouble finding books on a particular topic, the children's librarian is typically happy to offer guidance.
The next step is to make reading time a fun, interactive experience while simultaneously encouraging vocabulary growth, language growth, and comprehension. This can be accomplished by first asking your child to look at the illustrations on the front and back of the book and then to describe what she thinks it is about. Continue with a "picture walk through" wherein you and your child take turns discussing what you see on each page and how the characters may be feeling. As you read, talk about any words she may not be familiar with. Before turning from one page to the next, sometimes ask her what she thinks may happen next. During all the above interactions, expand on what she says, using more complex language forms. For example, if she says, "The dog is here," you can then say, "Yes, the dog is sitting and waiting for his bone." Finally, revise your child's language when grammatical errors are made. These storybook-reading interactions go beyond simply reading words on a page and allow your child to increase her vocabulary, expand her knowledge of language, and employ critical thinking skills. All are important foundations to early literacy success.
The last step for summer reading is optional, but may prove to be invaluable to your child as he approaches his kindergarten year. In addition to his book choices, consider sprinkling in books that have a theme of cooperation, fairness, sharing, respect, or compassion, to name a few. An assortment can be found by searching under "themed books for preschoolers" on the Internet. These books can provide you with a forum to discuss with your child attributes needed to develop positive relationships with teachers and peers. Look at it as addressing a new and critical R for school–Relationship building!
Summer reading with your preschooler can be a great source of enjoyment that presents opportunities for growth in literacy as well. With a little planning, it can also contribute to preparing your child socially for the demands of school. As the days grow longer, take time to pour over a few books with your child, and in the process get her on an early tract toward success in kindergarten.